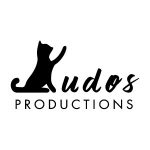 Kudos Productions is a collective of storytellers with the united belief that stories can make a difference. The prime core of Kudos Productions is headed by Nicole Yong (Producer, Actor), Josh Blake (Actor, Acting Coach, Creative Director) and Jude James (Writer, Director, Artistic Director). Kudos believes in delivering 3 tenants within their stories:
1) ENTERTAIN through the stories and current thoughts of humanity.
2) HIGHLIGHT the awareness of pop culture, social structure, beliefs, fears and joys of the modern world.
3) REMIND everyone that we are flawed beings with ambitions and desire, but also have hope.
Projects / Productions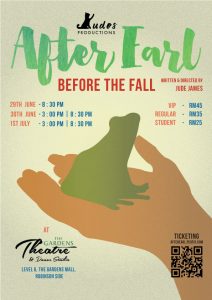 After Earl: Before The Fall
2018
There was once a frog named Earl, who lived in a small pond in the grotto of a castle. Earl, was a frog of no consequence for he was simply, a frog. His name, in fact, was not given to him at birth because frogs have no need for names. His name was given to him by the princess who lived in the castle. Her name was Clarice. Kudos Productions presents After Earl, The Chronicles: Before The Fall. A tale of a fairy godfather, a princess in his charge, and a frog that would change an empire. How far would one go to attain true love?
VIEW PROJECT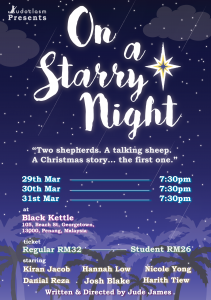 On A Starry Night
2018
On A Starry Night is a tale of two shepherds on an unlikely adventure in 0 A.D. Thomas and Luke are two shepherds who find themselves in an unlikely adventure when Angie, the angel appears to them to deliver a message of good news, when she realizes she has appeared to the wrong shepherds. Adventure, danger and laughs, On A Starry Night is a Christmas story for all ages. On A Starry Night is Kudos' homecoming to the Malaysian theatre scene and promises to deliver laughs, adventure and a tinge of dangerous mystery for the entire family. You could call it a Christmas show but in truth, it is a Christmas you can see any time of the year as it aspires to bring hope at all times. On A Starry Night was staged at Theatre Lounge Cafe in 2017 and a re-staging was held in 2018 at Black Kettle, Penang.
VIEW PROJECT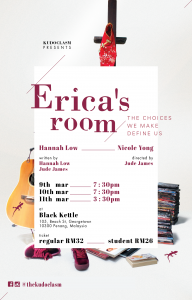 Erica's Room
2017
People change. Sometimes, that change isn't wanted or accepted, but to Erica it didn't matter. What matters most would be the choice that she will have to make to appease herself. This November, Kudos' presents, "Erica's Room", a theatre production that will explore the duties to one's family and the choices we make for ourselves, that could make or break the relationship with the people we have around us. Erica is a twenty-year-old girl who grew up being raised by her grandmother while struggling to understand the parents and family that surround her. Erica will have to make a choice, a choice that may leave her without her family, but how far will she go, to get what she wants. Erica's Room debuted at Theatre Lounge Cafe in 2017 and a re-staging was held in 2018 at Black Kettle, Penang.
VIEW PROJECT