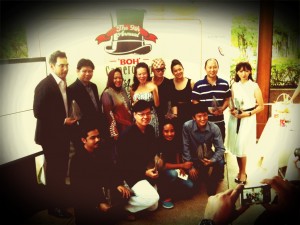 Articles, Blog, Press
Winners Announcement : 9th BCAA Technical Awards
By , 11 April 2012
On 10th April 2012, from 3pm – 5pm at Cinnamon, One World Hotel; we had the 9th Boh Cameronian 'Technical' Arts Awards.
It was a fun afternoon 1920's themed tea party and the event was packed to the brim with representatives from our Sponsors and Partner, Boh and PWC; members of the press, performing arts practitioners, friends and of course the Nominees themselves showed up.
And here are the list of Awards and the Winners!
Category : DANCE 
Category : MUSICAL THEATRE
Category : Theatre
Best Lighting Design

Tung Jit Yang (left) & Mac Chan (right)

> Tung Jit Yang
For CARTOON by Stevey Yockey, directed by Kelvin Wong, presented by The Kuala Lumpur Performing Arts Centre

Best Set Design

Iqmal Shafiq (far left) on behalf of Matthew Kneale, Dato' NorLiza (centre)_& Low Ngai Yuen (right)

> Matthew Kneale
For Klue, Doh!, directed by Mohd Iqbal and Murad Ben Ladesh, presented by TerryandTheCuz

Best Costume Design

Dato' NorLiza (far left), Swing Chong Shu Yin (centre) & Low Ngai Yuen (far left)

> Swing Chong Shu Yin
For Aku Cinta XXX 2011, written by Amelia Tan, Ceci Yong, Jinnie Lim, Easee Gan, Swing Chong and Simon Lee, directed by Amelia Tan, presented by ACX Production and The Kuala Lumpur Performing Arts Centre
A big hearty congratulations to all the winners!
And click here to check out pictures from the day.
Stay tuned to this space for more pictures from the afternoon and more updates about the upcoming 'Backers Audition' on 27th and the Awards night on the 29th.