OPEN CALL: The Human Exhibit: Mentalhealth
I'M Entertainment

October 24, 2017

DeadLine:

October 24, 2017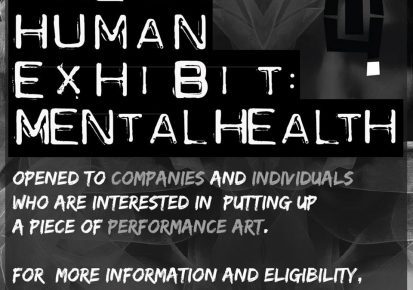 'The Human Exhibit: Mentalhealth' is a new performance art style that I'M Entertainment is exploring.
Curated by Ian Nathaniel and Dhinesha, this performance art will be themed MENTALHEALTH.
As part of the instagram movement #DearMentalHealth, this human exhibit aims to raise awareness for mental health and to abolish the stigma.
What exactly is this? Think fine art gallery. 'The Human Exhibit' is one journey that the audience will take to watch different representations of certain mental illnesses. Instead of looking at just paintings, there will be a human representation of the mental illness in the form of dance, spoken word, dialogue, scene, movement, etc. Things that YOU come up with!
The call is opened to COMPANIES and INDIVIDUALS. The first step would be to meet in Twenty20Two to get the full brief of the idea. You MUST attend this session (or send representatives) if you want to be able to email proposals then pitch for the performance.
The performance will take place last week of January/early February.
Details of the brief:
Date: 24th October 2017 (Tuesday)
Venue: Twenty20Two
Time: 3pm – 5pm
ONLY RSVP "ATTENDING" IF YOU'RE REALLY ATTENDING!
For more information, you can PM us on our page and we will answer your questions!
See you!